Kinloss Estate News
Cottage News - Covid-19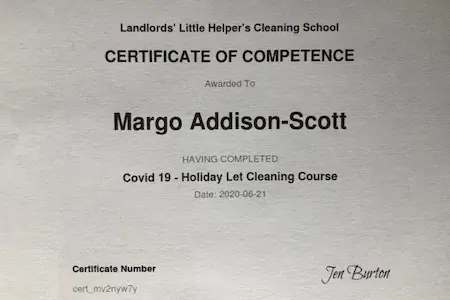 Garden Cottage has, like all other self-catering properties in Scotland, been closed since March 2020 because of Covid-19. However, we have now been given the go ahead to re-open from 4 July 2020.
Realistically, this, for us, means available from about 8 or 9 July, as we've been doing some work in the cottage, as well as furloughing staff. We've also been training to learn how to clean even better than usual and to disinfect to try our best to deal with the potential threat of this virus. Our aim throughout is to try to protect our guests, and our staff.
So, with this in mind, we are having a gap of at least 24 hours between bookings. We will disinfect throughout, we will remove toys from the cottage, we will rotate cushions, and we will ask guests, where possible, to bring their own towels. We will still supply bed linen, but we will ask guests on departure to bag up the bed linen, including pillow and mattress protectors, so we can uplift them without disturbing any virus. For pillows, we will have one pillow per head as hotels do, with additional pillows being available in wardrobes, wrapped in plastic.
We have been creating a risk assessment to cover as much as possible, and we will leave a copy of our cleaning checklist in the cottage to let guests know what we've done.
Sadly, the virus means that 'meet and greets' will no longer be possible and, instead, keys will be left in the (duly sanitised) key safe.
If you would like to know more about our enhanced cleaning, please don't hesitate to get in touch.