Garden Cottage
( sleeps 5 + baby )
Garden Cottage is a special place in the countryside of Fife, only about nine miles from St Andrews, but light years from the noise of town and city living. Here, we work hard to make your holiday just a little more special. We are happy to use our local knowledge to help you find that special restaurant, or that quiet, off-the-beaten-track beach, or if you want to play a different golf course every day for a fortnight, we can help!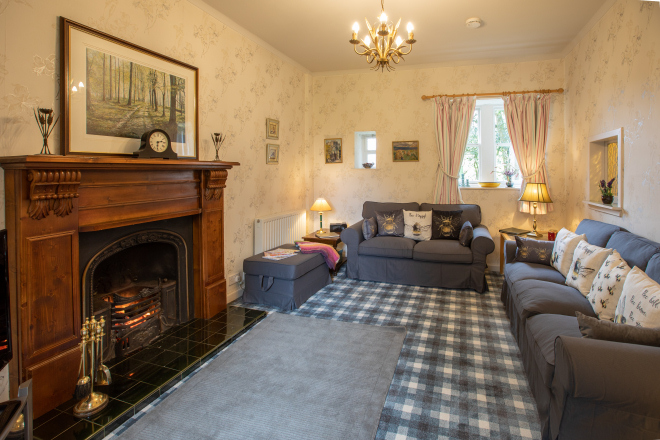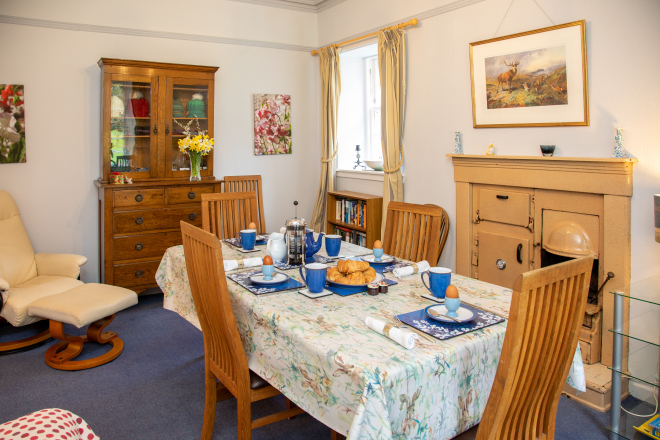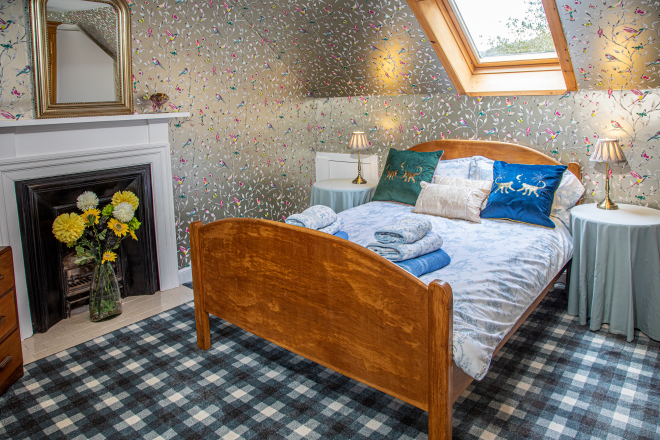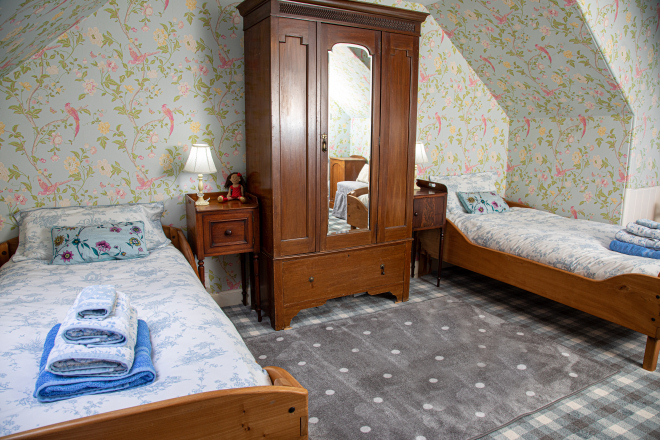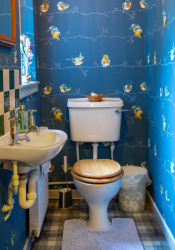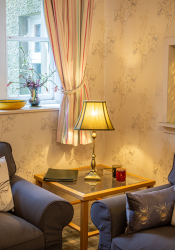 This lovely self-catering holiday cottage is right in the heart of Kinloss Estate in Fife, about nine miles from St Andrews and its many golf courses. The Estate is about 200 acres of arable land and, although close to Cupar and St Andrews, it is a wonderfully peaceful and tranquil place. The cottage sleeps five plus a baby in two bedrooms.
Garden Cottage is stone built and set in its own garden, with a lawn to the front, grass to the back, and with woodlands at the side. It sits on a private road, which is only used by cottage guests, and the very occasional tractor working on the estate. We think it's probably about two hundred years old, and has lots of character and traditional charm. It was originally the cottage for the head gardener on the Estate, though it has been tastefully renovated, and upgraded since his day. The cottage has central heating, and free Wi-Fi throughout.
Downstairs, the cottage has a cosy sitting room, with an open fire and flat-screen TV. The TV has Free-Sat channels and a DVD player with a selection of DVDs. There are also a selection of games and books in the cottage. We supply a starter pack of coal and unlimited logs for the fire, so that you can enjoy the pleasure of a real fire.
On the ground floor, there is also a full dining room, where the whole family can enjoy meals. With lots of lamps and more than a few candles, it's the perfect place to have a leisurely meal in the evening, as the light fades outside, enjoying the tranquility of the countryside in the comfort of your own space.
There is also a well equipped kitchen with hob, oven, microwave, washing machine, fridge, freezer and dishwasher, as well as a separate larder. We like to think we have supplied all you need to do as much (or as little!) cooking as you want.
Downstairs there is also a little cloakroom with a toilet and basin.
Upstairs, there is a bathroom, which has a lovely shower / bath, with fixed screen and power shower, toilet and basin. There are two bedrooms, one with a double bed, the other with twin beds. The beds are handmade by a local craftsman, from our own timber, and are made up with comfy toppers and cosy duvets. There is also a full size cot, and we are happy to supply bed linen and towels for your baby.
Outside, there is so much wildlife to enjoy around the cottage, with deer, pheasants and guinea fowl all regular visitors, especially in the early morning. In front of the cottage, in an open grassy area, is our duck pond, which has lots of wild ducks. In the spring, we love to see the ducklings swimming in line behind their mothers.
On the Estate, about 100 metres from the cottage, is our tennis court, and guests are welcome to use it by arrangement. If you don't have room in your luggage to bring rackets, just let us know, and we'll provide some.
Further afield, there is so much to see and explore in Fife. The Open Golf comes to St Andrews regularly, and is next here in July 2021, and in 2018 it comes to Carnoustie, which is roughly an hour from the cottage. And, of course, there are many other varied golf courses in the area.
The cottage is about nine miles from St Andrews, and so is perfect for golfers or for visitors to the University.
Edinburgh is an hour away by train or car, with the Edinburgh Festival in August, and so many sights and shops to see and visit.
Fife is just a perfect place from which to explore all that the east of Scotland has to offer. If you need more information, please get in touch.
* Timed central heating is included from 1 September to 1 June for about 10 hours per day split between morning and evening. If the weather is unseasonably cold or you want additional heating, we can increase it, or if you want 24/7 heating, please request a price. There are electric heaters in both bedroom, for use as required, in addition to the central heating.