Kinloss Estate News
Yoga / Pilates Retreat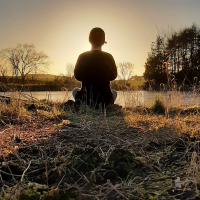 As the self-catering sector looks like opening up, this seems the right time to share our plans for the coming season. Guests well being and wellness is always our priority, and with that in mind, we have put together some packages involving yoga, Pilates and possibly CrossFit. Our gorgeous private walled garden has not in the past been open to guests (it has been our private chill out space!), but is so amazing, we are planning to offer it as a private, outdoor space for some wellness classes. Just for guests, we have found some lovely trainers, and are putting together bespoke sessions. Interested? Details below!
Open Air Yoga and Pilates at Garden Cottage
New for 2021 we are delighted to offer private pilates and yoga classes, within our lovely walled garden. The garden is not open to the public and offers a peaceful and relaxing environment for guests to enjoy while destressing, and letting the cares of the world just disappear.
Lorraine is our Pilates instructor, and her website is www.realisticpilateslorraine.com.
Pilates is a method of body conditioning, which was developed over 80 years ago by Joseph Pilates.
Classes are mat-based and suitable for complete beginners or those completely new to exercise, with a focus on keeping your body safe and supported at all times. It is a low impact form of exercise. Many class members find spending time on the mat making a mind-body connection very relaxing and helps to quiet and focus the mind.
There are many benefits including better posture, proper co-ordination, breathing control and improved flexibility and clients often experience improvements in confidence, self-esteem, and self-awareness resulting in a new zest for life!
Realistic Pilates uses slow, controlled, and precise movements and may seem to be a gentle and easy form of exercise; however, its combination of strengthening and mobility moves can create a very intense and highly beneficial workout.
High fitness levels or great suppleness are not a necessary pre-requisite for Pilates. In fact, Realistic Pilates enhances both of these conditions, whilst strengthening the core muscles within the torso.
A one hour private session for 1-5 guests is £60. A further 30 minutes talk on nutrition is available for a further £20.
Our Yoga coach is Karen. Her website is www.allnewyogalife.com.
The regular practice of Hatha Yoga changed Karen's life gradually and gently. At the beginning it was hard, not just physically, it tested her confidence and patience but the pros outweighed the cons and a regular practice of stretching, breathing and taking time for herself on her yoga mat helped her find space in life, mind and body. Within a year it was clear what the power of Yoga could do and this was when teaching yoga became the goal.
She wanted to share that yoga was for every body. It didn't matter what shape or size or age you were, that it wasn't about achieving the poses that made the difference but actually about how you are in your own body, that every body could do yoga, that every body was amazing. So Karen found a teacher that could help her understand more on the physicality and anatomy of the human body. Thankfully Karen found Dhugal Meachem Black Mat Yogi, who provided an amazing Teacher Training based on variable anatomy.
In September 2018 Karen completed her 200 hour Hatha Training and in January 2020 completed her 200 hour Yin Training both with Dhugal Meachem. Both trainings have allowed Karen to develop her own gentle style of teaching focusing on gentle strength and flexibility for all that attend.
Karen set up her business AllNewYogaLife and started teaching in 2018 initially mostly indoors, but she found her own practice moving outdoors where connection to nature has given Karen's own practice a deeper dynamic and she invites her clients to experience this.
And while Karen will continue with some indoor classes when she can, it is her hope that 2021 will allow her to bring regular outdoor classes within the beautiful landscapes of North East Fife. She would love you to join her and if you're worried about the weather just remember that wonderful Billy Connolly quote:
'I hate all those weathermen, too, who tell you that rain is bad weather. There's no such thing as bad weather, just the wrong clothing. So get yourself a sexy raincoat and live a little.'
Billy Connolly
Karen's classes are 1 hour 15 mins, and for 1-5 guests the cost is £60 mid week, and £80 for weekends.