Mia Candles, Fife
I've always loved perfumes and candles and, when I combined the two, it was just perfect, and so Mia Candles was born.
Since then, I've spent many happy hours perfecting the craft, or possibly the science, of creating candles. I've played with many different types of containers, some that work, some that didn't quite!

I now focus on traditional glass and tin containers of various shapes and sizes, and coffee cans. The coffee cans provide lots of different colours and designs for little candles, as I hope my photographs show. They are perfect for dressing a table for a special dinner or for gracing a side table. The coffee cups are too individual to sell on-line, but are available at Made in Fife craft fairs and at Fife Farmers' Markets, where I have a stall regularly (please check with me before going).
I currently have four fragrances: two Jo Malone-type fragrances, Earl Grey & Cucumber and Velvet Rose & Oud, a Dior J'Adore-type fragrance that I call Te Adoro, and Rose. Each is lovely in its own way, and I hope everyone will find one to love.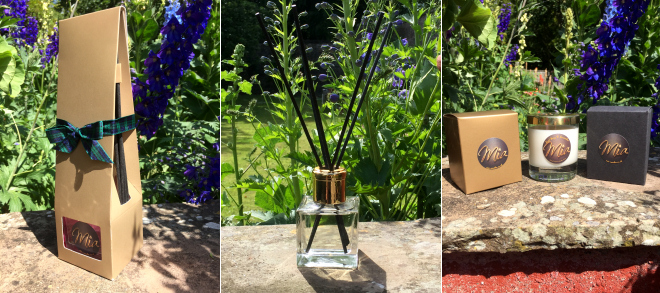 I have, more recently, used the same fragrances in my beautiful reed diffusers, which contain either 100ml or 50ml. The reeds are the best I've been able to find, and are porous, so spread the fragrance easily without the need to turn them frequently.
Prices are available at www.mia-candles.co.uk and you can follow Mia Candles on Facebook.
I would love to hear from you if you are interested in buying one or more of my candles or diffusers.
Margo Addison-Scott